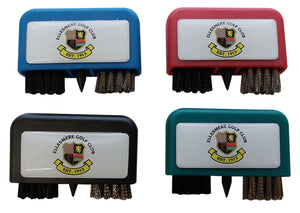 Club head cleaner available in red, blue, green and black with a full colour 44 mm x 19 mm domed plaque bearing your company logo, club or society crest. 
The cleaner has a retractable wire brush, hard nylon brush and groove cleaner with a minimum quantity of only  10 pieces.

For artwork, we can work normally with a jpeg or similar but if not suitable we can redraw for £17.50 which becomes your property.

All prices plus vat but carriage paid UK Mainland.

Upload your artwork when ordering to info@salesspectrum.co.uk
Helpline 01527 579142.