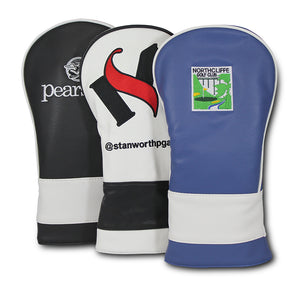 This head cover is embroidered with your club name, company or golf society logo etc and can also have an individual's name. We can also embroider on the side of the headcover which is ideal if you wanted to add a website address or venue or date.
The head cover is available in 3 sizes, Oversize 460cc Driver, fairway or rescue. The fairway and rescue covers come with adjustable number tags.
Price includes 1 embroidery per head cover which must be the same on each head cover
Price includes embroidery up to 8000 stitches, any extra stitches charged at 25p per 1000 or part thereof..
Embroidery DST file charge on first order £19.50. No charge on repeats.
Colours available black/white, white/black, blue/white.
Minimum quantity 12.
All prices plus vat but inclusive of carriage on UK Mainland.
Upload your artwork when ordering to info@salesspectrum.co.uk
Helpline 01527 579142