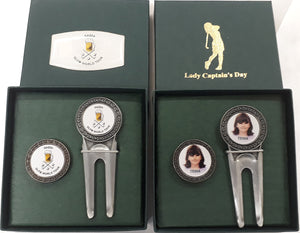 The Classic pitch repairer and ball marker in a gift box with your chosen image and the lid has either a domed plaque with the same image or foil blocked with one of the following :-
Merry Christmas, Happy Fathers Day, Best Wishes, Congratulations, Thank You,With Compliments, Captain, Lady Captain, Winner, Runner Up, Nearest the Pin, Longest Drive, Worlds Greatest Golfer.
Give us a ring if you need any advise. 01527 579142
Price plus vat but free postage.