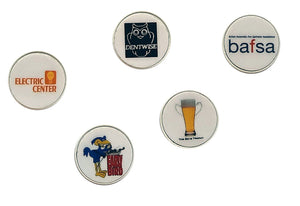 White plastic ball markers holding a 16 mm full colour decal. There is no set up charge as long as we can use the design you have. We can produce artwork or redraw artwork if required (Click the redraw button when ordering.)
This is a great little token idea as part of a charity day package or stag do etc and look at our survival packs that this could be incorporated into.
Email your artwork to info@salesspectrum.co.uk
 Minimum quantity is 25 but call us if you need a smaller amount.