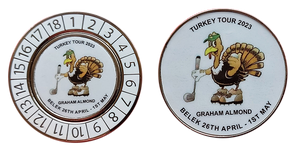 Metal 40 mm body with with a 38 mm full colour image of your choice in the recess holding a 26 mm flat magnetic ball marker disc with either the same image or another.
Email your artwork to info@salesspectrum.co.uk but if your artwork is not up to scratch, we can redraw for £17.50. We can also help you with any design and even add a players name, call for a price.
All prices are plus vat but carriage is paid on UK Mainland.
Helpline 01527 579142