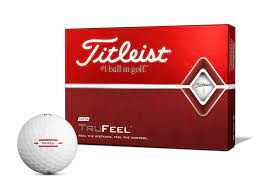 All the feel, all the distance, all Titleist. Titleist® TruFeel™ is the softest Titleist golf ball designed for more distance than ever before with a thinner cover for responsive feel around the green. Plus, the quality you expect from the #1 ball in golf.

Minimum order 6 dozen.  No set up costs.
Email your artwork to info@salesspectrum.co.uk
We can redraw your artwork for £17.50 if not up to scratch. 
All prices plus vat and but carriage paid UK Mainland. 
Helpline 01527 579142